Henderson Shipbuilding Operations and Service Capabilities
Austal Australia's Henderson shipbuilding and service facilities comprise: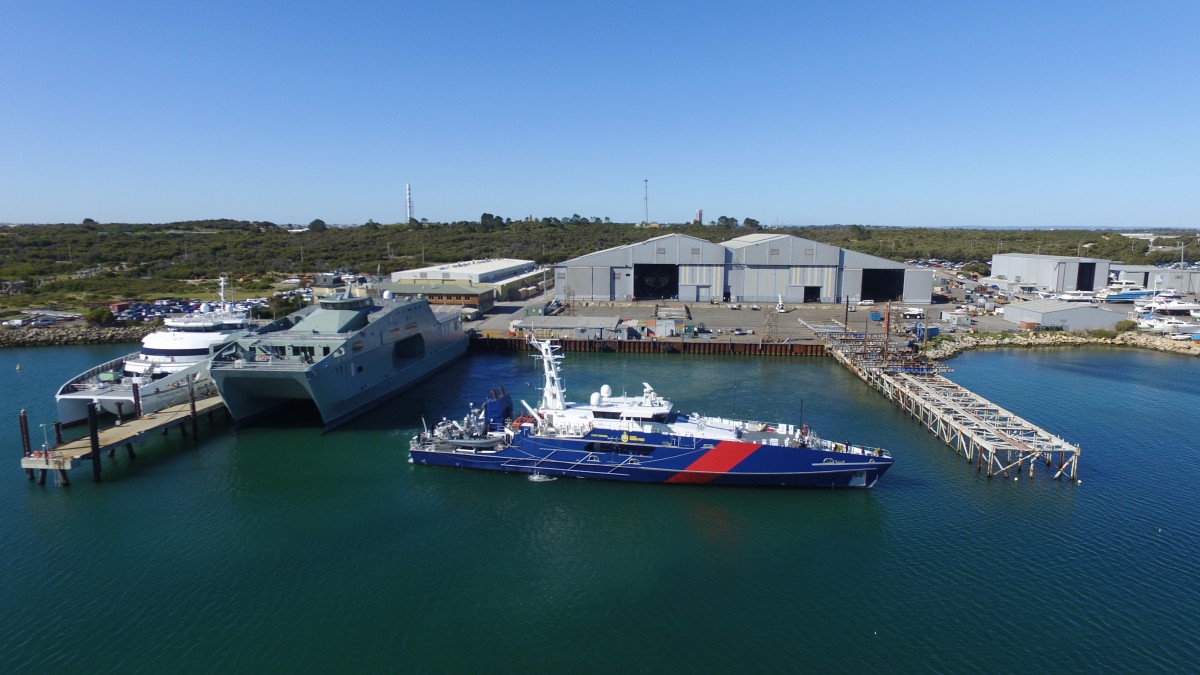 Land Area

78,344m²

Office Area

2,055m²

Building Halls

Bay 3

93.0m long x 21.0m wide x 14.9m high

Bay 4

95.0m long x 30.0m wide x 21.8m high

Bay 5

99.0m long x 35.0m wide x 21.8m high

Bay 6

99.0m long x 23.0m wide x 14.9m high

Slipway

2,000 tonnes

Commissioning Berth

290m

Pre-Fabrication Space

4,320m²

CNC Equipment

ART 10000SX (Router) - 2.5m x 10m

ART 19000SX (Router) - 2.5m x 19m

FOM Industrie Blitz 50 (Double Saw)

FOM Industrie Argo 70 RM (Machining Centre)

Transfluid DB2090-3A (Pipe Bender)

YCM GT-250MA (Turning Centre)

Cranage

2 x 5.0 tonne gantry

5 x 3.0 tonne gantry

30 x 3.2 tonne monorail
Austal Australia's production process comprises four disciplines:
Fabrication Department
Fitout Department
Engineering Department
Electrical Department
Fabrication Department
Aluminium, Mild steel and stainless fabrication/welding capability.
GL/DNV certified workshop. Coded welders, approved weld procedures and process that meet all the high demands of Classification Societies and ISO accreditation.
A modern Safe and efficient plate shop for processing plate and extrusion.

2 x ART CNC routers with double beds. Capable of cutting 3 – 50mm aluminium plate at 4 metres per minute.
FOM ARGO CNC multi tool, multi axis mill for profiling aluminium extrusion.
FOM BLITZ CNC double head sawing machine with 500mm blade and electronic cutting angle control.
200t Brake Press with 4m bed.
3.1m bed Guillotine capable of cutting 10mm aluminium.

Small parts workshop specialised in manufacture of components such as sea chests, ride control housings, stairs (steel and Ali), Handrails S/Steel and Ali and HVAC components.
Ship repair capability.
Fitout Department
Capability to manufacture and/or fit in house.
1160 M2 of Fitout workshop with a full array of machinery.
CNC 3 axis vacuum bed router with nesting capabilities.
ISO9001 Quality management system.
3D design capabilities, online virtual walkthroughs.
Specialising in lightweight honeycomb furniture manufacture to IMO & Solas requirements.
Full range of aluminium extrusions for interior outfit.
Manufacture Outfit flat pack furniture – ready for offsite installation.
Manufacture of C-Class smoke proof lightweight Interior doors.
Interior Bulkhead Linings & Furniture setout installation to IMO & Solas requirements.
Deck covering installation to IMO & Solas requirements – Feature flooring, wet area vinyl and Carpet installation.
Ceiling installation to IMO & Solas requirements – Suspended Tile and  Linear panel systems to Feature Barrisol stretched ceilings
Engineering Department
Machine shop with manual and CNC lathes and milling machines.
Spool shop c/w CNC and manual pipe-benders, capable of manufacturing and testing pipe spools and components.
Coded pipe-welders (T.I.G.).
DNV certified Hydraulic hose shop with hose assembly and testing capabilities.
Laser alignment of main engines, gearboxes, water jets and shafting.
Installation, testing and commissioning of all piping systems on-board vessels, including fuel, hydraulics, firemains, sprinkler/drencher, co2, watermist, domestics/plumbing and air conditioning/refrigeration.
Manufacture and testing of a/c plants and air handling units.
Electrical Department
Installation and commissioning of AC and DC electrical systems.
Installation and commissioning of control and automation systems.
Installation and commissioning of power management systems.
Installation and certification of network systems.
Electrical service and maintenance on marine vessels.
AC and DC distribution switchboard manufacture to class specification.
Control and automation switchboard manufacture to class specification.