February 20, 2017
Austal Australia To Employ 100 New Apprentices In The Next Seven Months
Austal (ASX:ASB), the Australian shipbuilder, will recruit and employ more than 100 new apprentices in the next seven months, as it increases its workforce to build new defence and commercial vessels for export and domestic customers.
The new positions will triple the number of apprenticeships currently offered by Austal.
Austal CEO David Singleton announced the creation of the new apprentice positions at the Company's Henderson shipyards today, after Prime Minister Malcolm Turnbull and Western Australian Premier Colin Barnett completed a short sea trial on board the ADV Cape Fourcroy, a Cape-class vessel Austal is building for the Royal Australian Navy.
"I encourage girls and boys who are about to leave school and enter the workforce to consider a career in naval shipbuilding," Mr Singleton said.
"Our staff, whether they design or build our high performance vessels, are the backbone of Austal's operations and it is important that we have highly skilled, young, energetic staff members coming through our ranks to ensure we retain that position in the future.
"The Pacific Patrol Boat Replacement program we are delivering for the Commonwealth of Australia, providing nineteen steel vessels to 12 Pacific Island nations will commence shortly. That will provide opportunities for the first wave of apprenticeships in the coming months."
Mr Singleton said the Federal Government's continuous naval shipbuilding strategy was integral in offering the apprenticeships, as it created sustainable employment.
"Until now we had to be responsive in our workforce planning to one-off contract wins and builds," he said. "Now, with the Pacific Patrol Boat Replacement contract commencing and as we bid for the Commonwealth's Offshore Patrol Vessel program, there will be greater certainty for our workforce planning and therefore greater certainty for our employees."
Apprenticeships will include fabrication, marine fitting and cabinet making.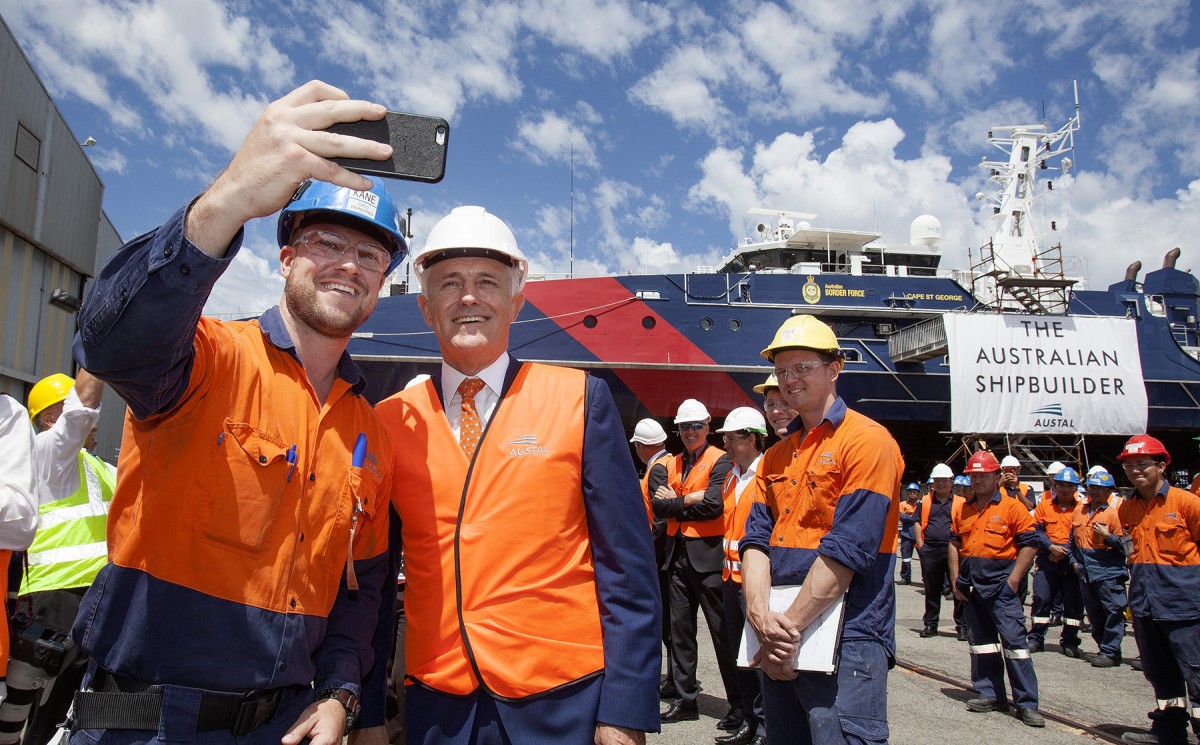 Austal is recruiting over 100 new apprentices over the coming seven months, to help build new defence and commercial vessels for Australian and overseas customers. (Photo: Rod Taylor)
About Austal
Austal is a global defence prime contractor and a designer and manufacturer of defence and commercial ships. For more than 28 years Austal has been a leader in the design, construction and maintenance of revolutionary ships for Governments, Navies and Ferry operators around the world. More than 255 vessels have been delivered in that time.
Ships
Defence vessels designed and built by Austal include multi-mission combatants, such as the Littoral Combat Ship (LCS) for the United States Navy and military high speed vessels for transport and humanitarian relief, such as the Expeditionary Fast Transport (EPF) for the United States Navy and High Speed Support Vessel (HSSV) for the Royal Navy of Oman. Austal also designs, constructs, integrates and maintains an extensive range of patrol and auxiliary vessels for government agencies globally, including the Cape Class Patrol Boat Program for Australian Border Force. Defence vessels are designed and constructed in Mobile, Alabama and in Henderson, Western Australia.
Austal has been at the forefront of the high speed ferry market since the early days of the industry. Our market leading designs of high performance aluminium vessels have long been at the heart of Austal's research and development. Today, commercial ship construction is centred on our shipyard in Balamban, Philippines.
Systems
Austal has expertise in integrating complex systems into its ships, including ride control, ship management, and communication, sensors and weapon systems.
Support
Austal provides a wide range of support services, including through life support, integrated logistics support, vessel sustainment and systems support. These services are delivered through our global support network in the USA, Australia, Asia, and the Middle East together with partner shipyards worldwide.
Further Information
| | |
| --- | --- |
| Contact: | Austal |
| Phone: | 61 8 9410 1111 |
| Fax: | 61 8 9410 2564 |
| Email: | media@austal.com |