May 16, 2016
Prime Minister Malcolm Turnbull Inspects Austal's Western Australian Shipyard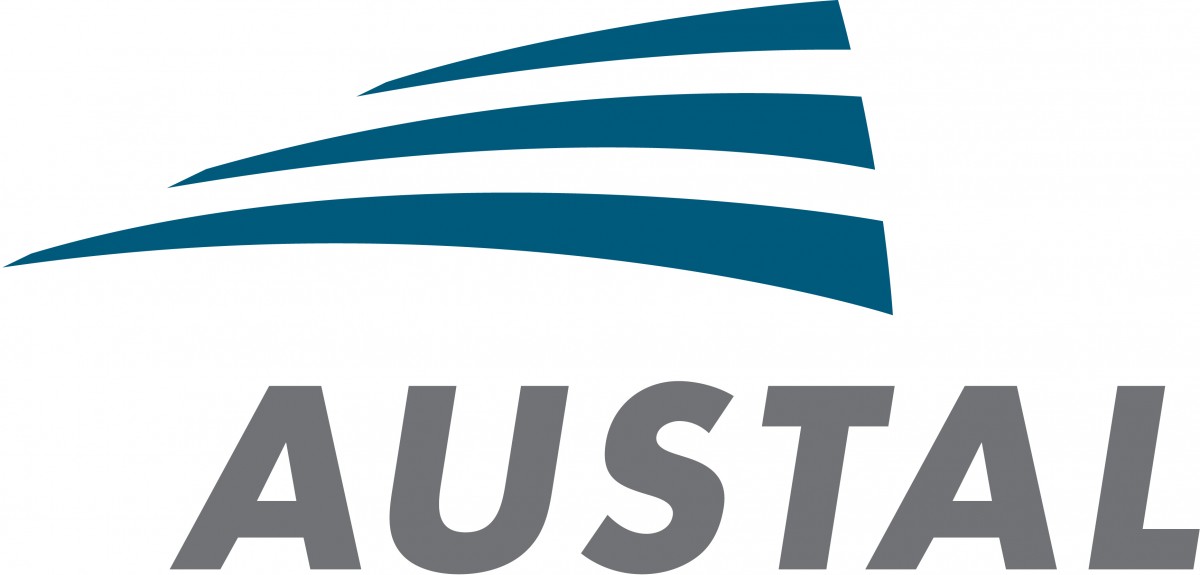 Austal Limited (ASX:ASB) has welcomed Australian Prime Minister Malcolm Turnbull to the company's Henderson, Western Australia shipyard, proudly demonstrating the facility's proven naval shipbuilding capabilities, innovation and export success.
Following the recent awarding of the $305 million Pacific Patrol Boat Replacement (PPBR) contract, comprising 19 vessels made from Australian steel, the Prime Minister took the opportunity to meet Austal's highly skilled and experienced shipbuilding team that will deliver the program for the Commonwealth of Australia. Twelve Pacific Island nations will benefit from the all new 40m Pacific Patrol Boats, which will be supported from Austal's Cairns service facilities, from 2018.
Welcoming the Prime Minister to Austal, Chief Executive Officer David Singleton said: "It was a pleasure to have the Prime Minister join us here today to see first-hand how we are gearing up for the Pacific Patrol Boats Replacement Project - and demonstrate our readiness to play a major role in the Commonwealth's continuous naval shipbuilding program.
 "The steel Pacific Patrol Boats represent a significant enhancement to our proven capabilities at this shipyard, which has successfully delivered numerous multiple-vessel naval programs as well as vessels up to 127m long for export customers."
Joined by Senators Linda Reynolds and Chris Back, the Prime Minister viewed three separate shipbuilding programs currently underway at Austal in Henderson; two new 58m Cape Class Patrol Boats for delivery to the Royal Australian Navy in 2017, plus two export orders; a 70m offshore fast crew transfer vessel for Caspian Marine Services and two 72m High Speed Support Vessels that were custom designed and constructed for the Royal Navy of Oman.
Speaking to media at today's tour, the Prime Minister said "Well, how awesome is this? Australian jobs. Australian workers. Australian technology. Building some of the most sophisticated naval vessels in the world, right here in Perth.
"What John Rothwell (Austal Chairman) has done here, as a great leader of Australian industry, as a great ship builder, he has taken Australian technology and created Australian jobs and built a global business and I am delighted that we are supporting Austal and they are providing these 19, up to 21 Pacific Patrol Boats and they'll be built right here and we expect the Offshore Patrol Vessels, of course after the first two are built in Adelaide, they will be built here at Henderson as well."
With proven success in delivering advanced defence vessel platforms from modern modular manufacturing facilities in Australia and the USA - including the frigate-sized, 127m Littoral Combat Ship (LCS) and 103m Expeditionary Fast Transport (EPF) programs for the US Navy - Austal continues to pursue all opportunities to participate in the Commonwealth's competitive evaluation process (CEP) for the Offshore Patrol Vessel (SEA1180) and Future Frigate (SEA5000) Programs.
-Ends-
Prime Minister Malcolm Turnbull was joined by Senator Linda Reynolds and Senator Chris Back for the tour of Austal's Henderson shipyard, hosted by Austal CEO David Singleton and Chairman John Rothwell. (Image: Rod Taylor/Austal)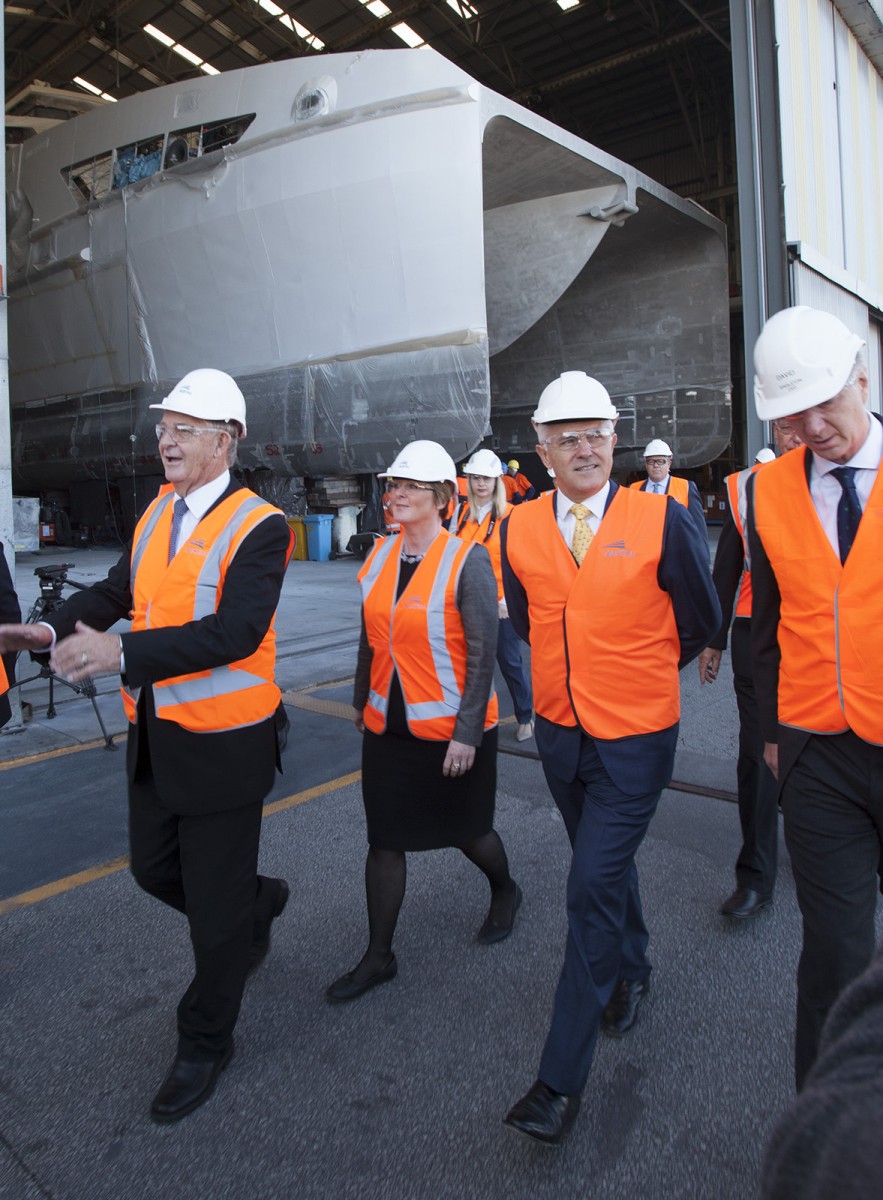 From Left: Senator Chris Back, Senator Linda Reynolds and Prime Minister Malcolm Turnbull in front of Hull 392, a 70m offshore crew transfer vessel under construction for Caspian Marine Services. (Image: Rod Taylor/Austal)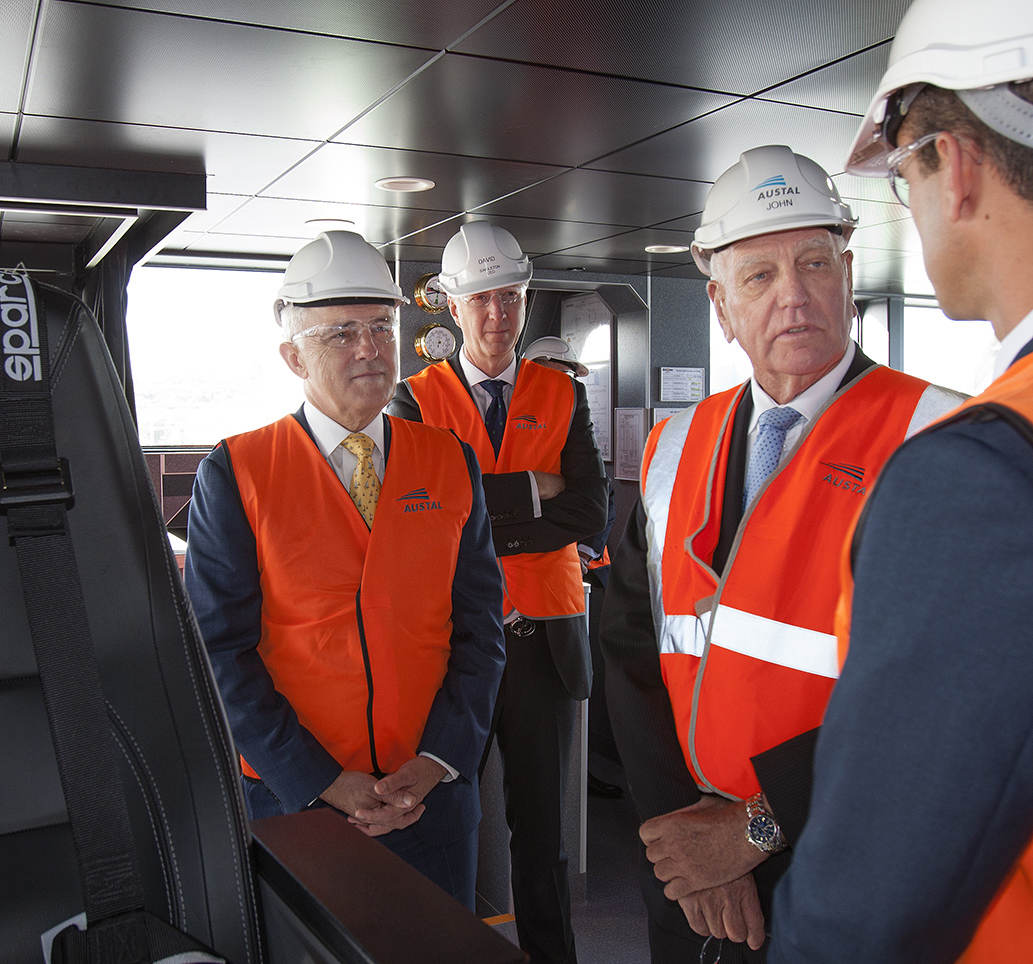 Prime Minister Malcolm Turnbull, Austal CEO David Singleton and Austal Chairman John Rothwell learn more about the 72m High Speed Support Vessel (HSSV) from HSSV Program Manager Mark Clay. (Image: Rod Taylor/Austal)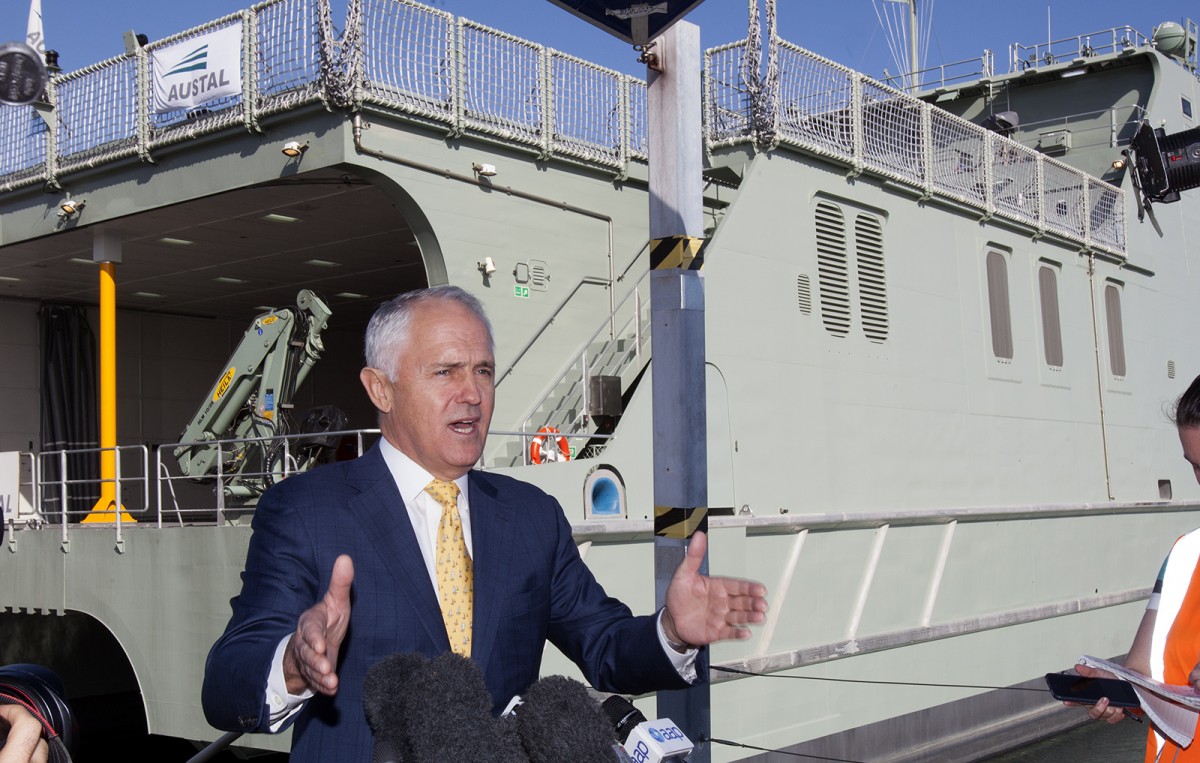 Prime Minister Malcolm Turnbull in front of the 72m (offshore patrol vessel sized) High Speed Support Vessel - designed and constructed for the Royal Navy of Oman by Austal. (Image: Rod Taylor/Austal)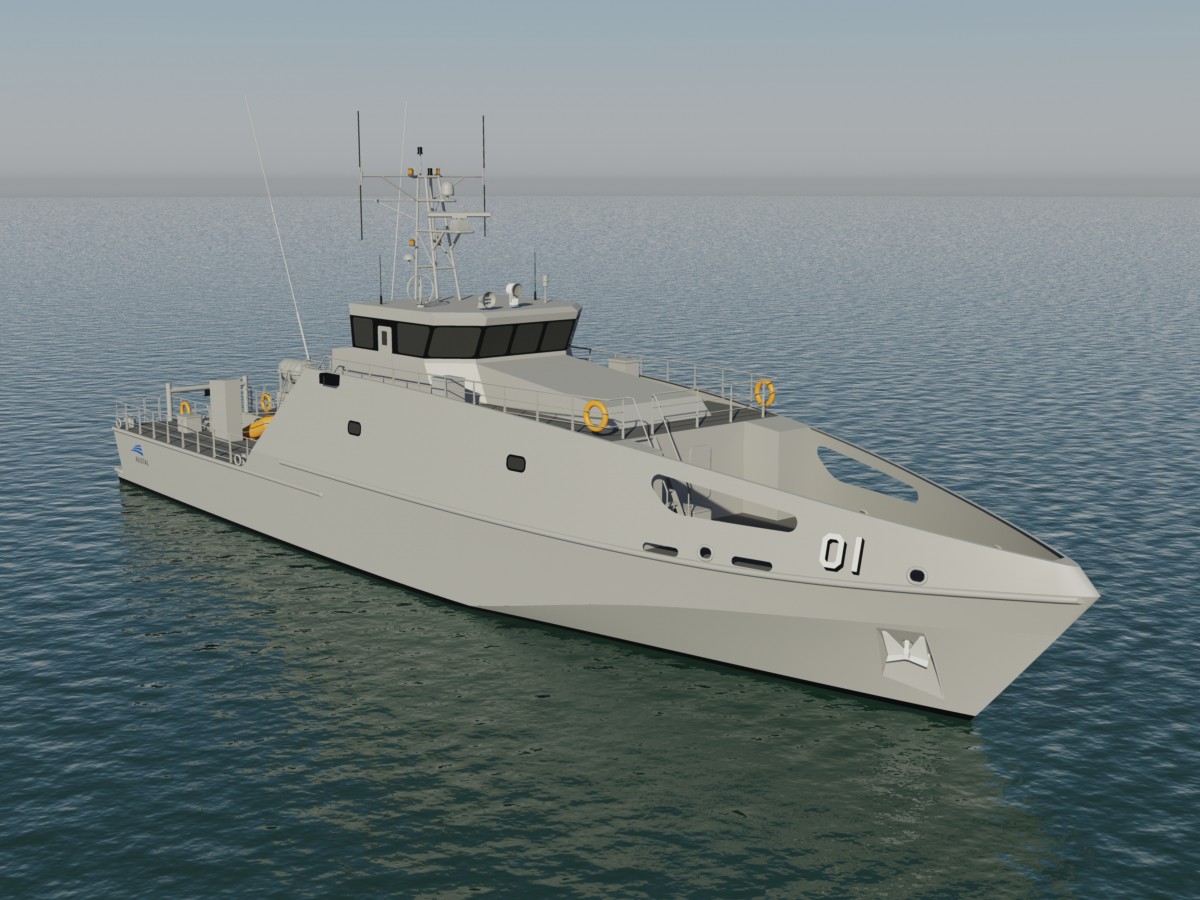 The Pacific Patrol Boat Replacement (PPBR) includes 19 x 40m steel vessels designed and constructed by Austal for delivery to 12 Pacific Island nations from late 2018. (Image: Austal)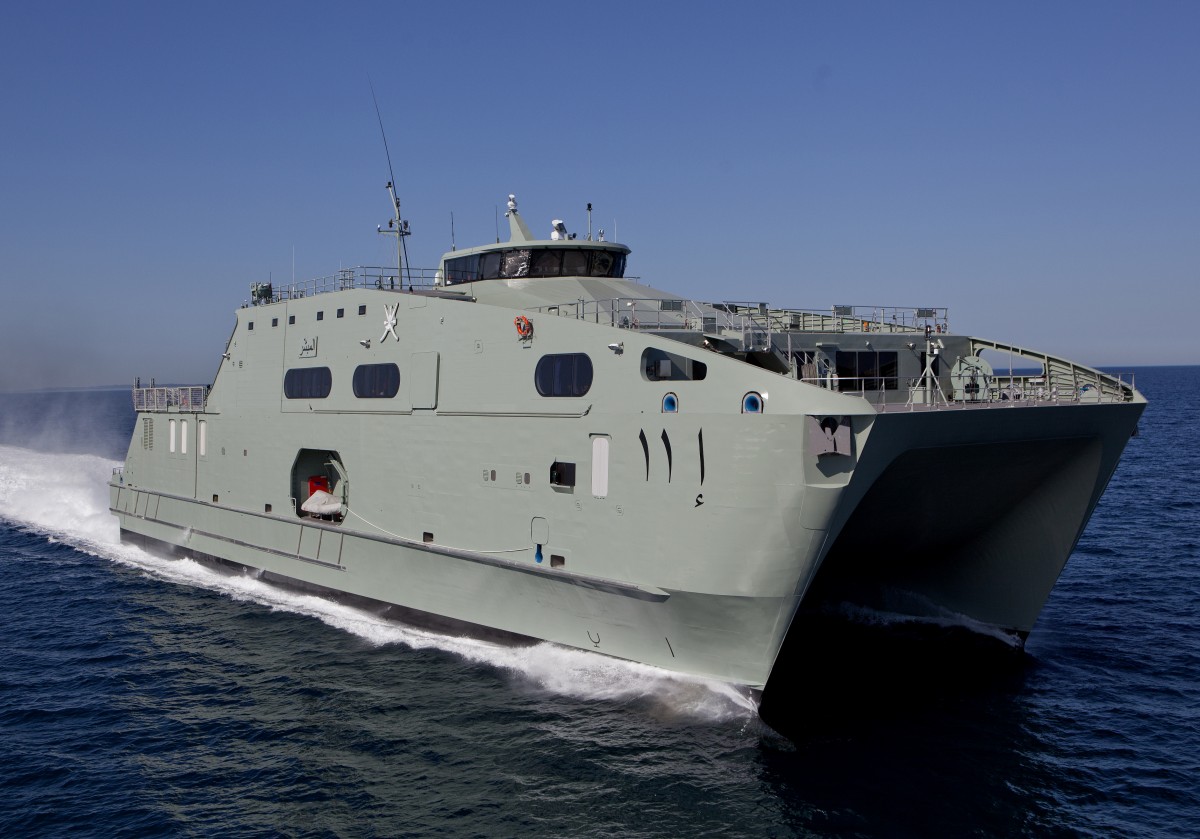 Austal's 72m High Speed Support Vessel developed for the Royal Navy of Oman is similar in size (length) to Offshore Patrol Vessels under consideration for the Commonwealth's SEA1180 Program – and demonstrates the company's success in developing competitive export products. (Image: Austal)
About Austal
Austal is a global defence prime contractor and a designer and manufacturer of defence and commercial ships. For more than 27 years Austal has been a leader in the design, construction and maintenance of revolutionary ships for Governments, Navies and Ferry operators around the world. More than 260 vessels have been delivered in that time.
Ships
Defence vessels designed and built by Austal include multi-mission combatants, such as the Littoral Combat Ship (LCS) for the United States Navy, and military high speed vessels for transport and humanitarian relief, such as the Expeditionary Fast Transport (EPF) – previously known as the Joint High Speed Vessel (JHSV) – for the United States Navy and High Speed Support Vessel (HSSV) for the Royal Navy of Oman. Austal also designs, constructs, integrates and maintains an extensive range of patrol and auxiliary vessels for government agencies globally, including the Cape Class Patrol Boat Program for Australian Border Force. Defence vessels are designed and constructed in Mobile, Alabama and in Henderson, Western Australia.
Austal has been at the forefront of the high speed ferry market since the early days of the industry. Our market leading designs of high performance aluminium vessels have long been at the heart of Austal's research and development. Today, commercial ship construction is centred on our shipyard in Balamban, Philippines.
Systems
Austal has expertise in integrating complex systems into its ships, including ride control, ship management, and communication, sensors and weapon systems.
Support
Austal provides a wide range of support services, including through life support, integrated logistics support, vessel sustainment and systems support. These services are delivered through our global support network in the USA, Australia, Asia, and the Middle East together with partner shipyards worldwide.
Further Information
| | |
| --- | --- |
| Contact: | Austal |
| Phone: | 61 8 9410 1111 |
| Fax: | 61 8 9410 2564 |
| Email: | media@austal.com |